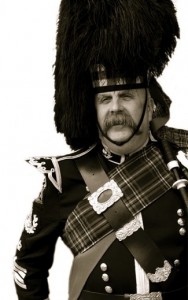 Iain was one of the Pipers in the famous George Hotel Scottish Evening, here in Edinburgh, starring Grant Frazer – the 'romantic voice of Scotland'.
He also spent time in Jamies Scottish Evening in the King James hotel, working with Larry Marshall, one of Scotland's best loved entertainers. He ended his show career with a TEN year 'season' at the Carlton Highland Hotel on Edinburgh's North Bridge, appearing with one of Scotland's most famous tenors – Alan Borthwick. The most famous of Iain's trips abroad was to Atlanta, Georgia USA for an OVERNIGHT TRIP. There he made a guest appearance at a Caledonian Ball – jet lag was not an option.
Iain also had the great honour of leading the 'charge' of the 79 New York Cameron Highlanders at the re-enactment of the Battle of Port Hudson, just outside New Orleans; an American Civil War engagement.
---
Iain is very much involved in Wild West re-enactments, indeed only recently has he returned from the States where he visited Deadwood, South Dakota, appearing in the Wild Bill Hickok Show held in the famous Number 10 Saloon on that most famous of thoroughfares, and, appeared as Wyatt Earp in the Crystal Palace Saloon, Tombstone, Arizona. Read this article about Iain, fascinating (courtesy of The Herald).
Iain is a very active member of the Single Action Shooting Society and is also a member of the Open Range re-enactment team, based here in the UK. So if you are having a Western themed wedding … look no further.
Finally, he was a former Director of Bagpipe Music at one of Edinburgh's most prestigious Music Schools.
---

Tunes I love to play:
– Braes of Castle Grant
– Maggie Cameron
– Sheep Wife
My next challenge … to learn to play HOW TO TRAIN YOUR DRAGON